The easiest way to reach Istanbul is to land at one of Istanbul's two international airports. To reach Istanbul by air there are two international airports, those of Istanbul (inaugurated on 29 October 2018 near the Black Sea), on the European side of the city, and Sabiha Gökçen, on the Asian side. Turkish Airlines (www.turkishairlines.com/tr-tr/) and Pegasus (www.flypgs.com ) operate direct scheduled flights from around 100 airports around the world. Istanbul airport is used for most international flights, while some charter companies land at Sabiha Gökçen airport. There are no direct ferries from Europe but cruises such as MSC, Costa, Norwegian Jade, Celebrity, Aida and others always include a visit to Istanbul starting from April to December.
The main company Turkish Airlines offers direct flights to Istanbul from all major European cities and from 7 Italian cities; Milan, Rome, Venice, Bologna, Naples, Genoa and Turin.
The Pegasus, on the other hand, has direct flights from Rome, Milan and Bologna. Alitalia flights direct from Italy to Istanbul depart from Rome and Milan.
Istanbul airport is located 20 kilometers from the Sultanahmet area and has all banking services, a tourist information office, hotel booking desks and car rental agencies always available. The rates can be found immediately at the terminal exit and the fare for Taksim and Sultanahmet is around 180 TL. But it must be said immediately that taxi drivers sometimes do not access the taximeter to negotiate with customers even if it is mandatory to insert a taximeter for any direction.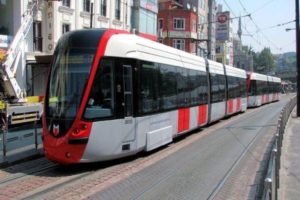 Another cheaper and safer alternative, both from Istanbul and Sabiha Gökçen airport is Havaist (https://hava.ist) which has a stop immediately outside the arrival of the terminal. Havaist buses leave for Taksim every half hour between 04:00 and 01:00 and the journey takes about 50 minutes, costs only 25 TL. The Havaist route includes stops in Aksaray, where you can take a tram to Sultanahmet, about 1km.
Many low-cost international airlines fly to Sabiha Gökçen Airport on the Asian side of Istanbul about 30 km away. To get to Taksim and Sultanahmet by taxi the fare is around 220 TL. It should be remembered that Havaist buses also depart every half hour from S. Gökçen to Taksim which costs only 18 TL. and the journey takes about an hour and a half.
For those who decide to enter Turkey by car, the Turkish customs authorities ask for documents. A stamp will be placed on your passport to prove that you have brought a vehicle into the country and you will not be able to leave without it. They also issue you a certificate that you must always carry with you, along with your passport and driving license. For foreigners it may seem exhausting to drive in Istanbul. There are public parking spaces even if it is difficult to find a place.
The cheapest way to get to Sultanahmet is with the tram which runs from 06:00 to 24:00. By purchasing two tickets at the airport terminal, you can take the train to Zeytinburnu. Here you can change the train and take the one for Kabataş which passes through Sultanahmet, Sirkeci and Kabataş.