Asian side of Istanbul: Uskudar, Kuzguncuk and Kadikoy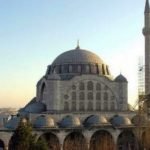 Mihrimah Mosque, forced in 1548 at the behest of Sultana Mihrimah, the only daughter of Sultan Suleiman,
Kuzguncuk district, famous with its particular center and with the typical houses where television series are shot,
Mother Sultana Mosque, built in 1710 by the mother of Sultan Ahmet lll, detail with the nests of birds on the walls of the mosque by the Ottomans
Uskudar district center, visit the Uskudar district center and market.
Tower of the Fanciulla, built in the XI. sec. by the Byzantines to guard the entrance to the Bosphorus
Center of the Kadikoy and Moda district, visit the center and market of the Kadikoy and Moda district
Spice Bazaar, built in 1664 to finance the expenses of Hatice Turhan Sultan Mosque, mother of Sultan Mehmet IV.
If you would like to join our guided tours with us or for more information, please contact us by email or leave a comment below.
To get an english guide in Istanbul you can contact us 7/24 also via WhatsApp: 00. 90. 533 550 32 06 
Email: info@ulisseistanbul.com